Description
A compact kit with an undeniable elegance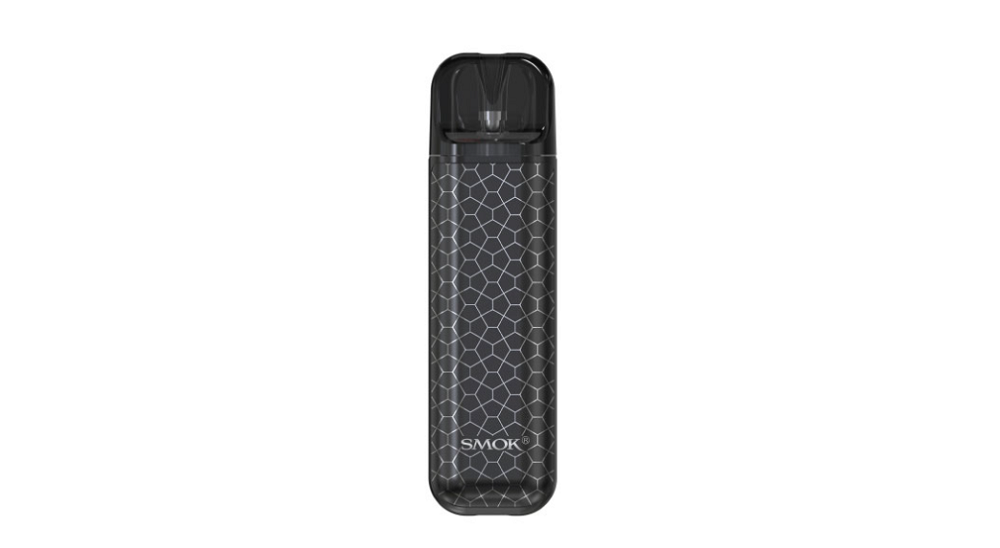 The Novo 2S kit is the latest addition to Smok's Novo range. It takes over from the Novo 2 and even surpasses it. First of all, how compact ! Smok has given this pod a weight of 43 g and dimensions of 91.55 x 24.5 x 14.5 mm. This creates a light, thin, easy to hold device that can be slipped into a pocket and takes up no space in a purse or bag.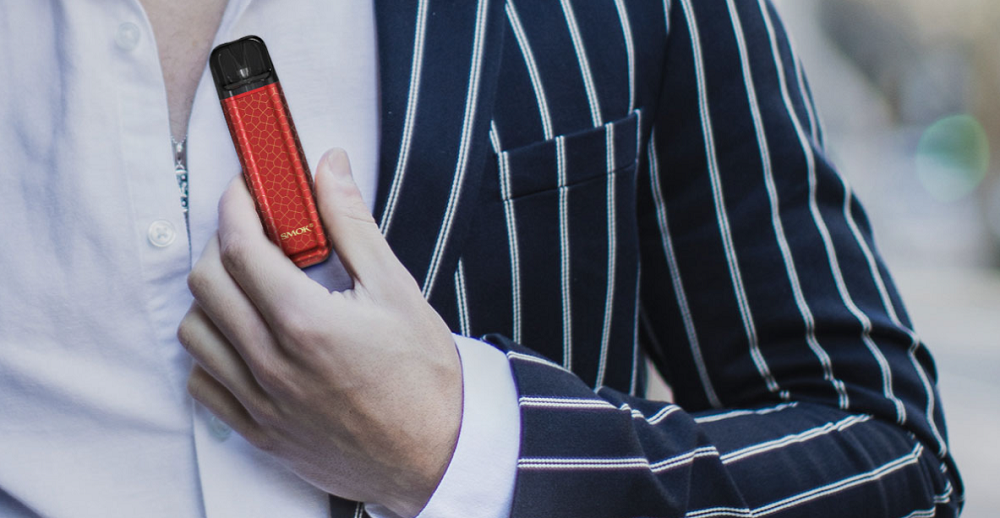 The Novo 2S has a certain elegance. The body of the device is beautifully patterned and a glossy coating prevents fingerprints from appearing.
A powerful and easy-to-use kit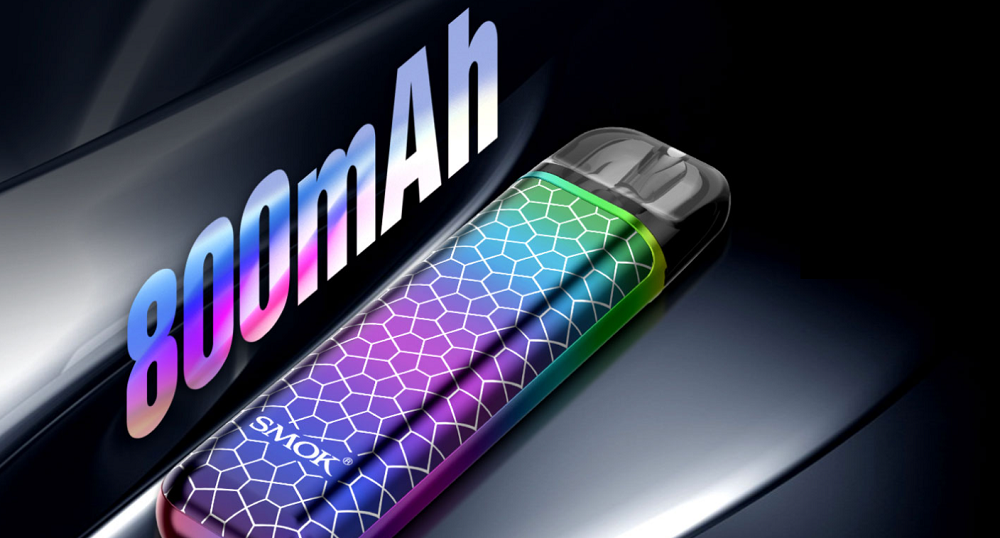 The Novo 2S may be small in size, but it's big on performance, starting with its built-in battery that provides 800mAh of battery life – ideal for a full day's vaping – and is recharged via a USB Type-C cable (included). In addition, a stealthy LED indicator on the front panel informs you of the remaining battery level in three different colours : green for high charge, orange for medium charge and red for low charge.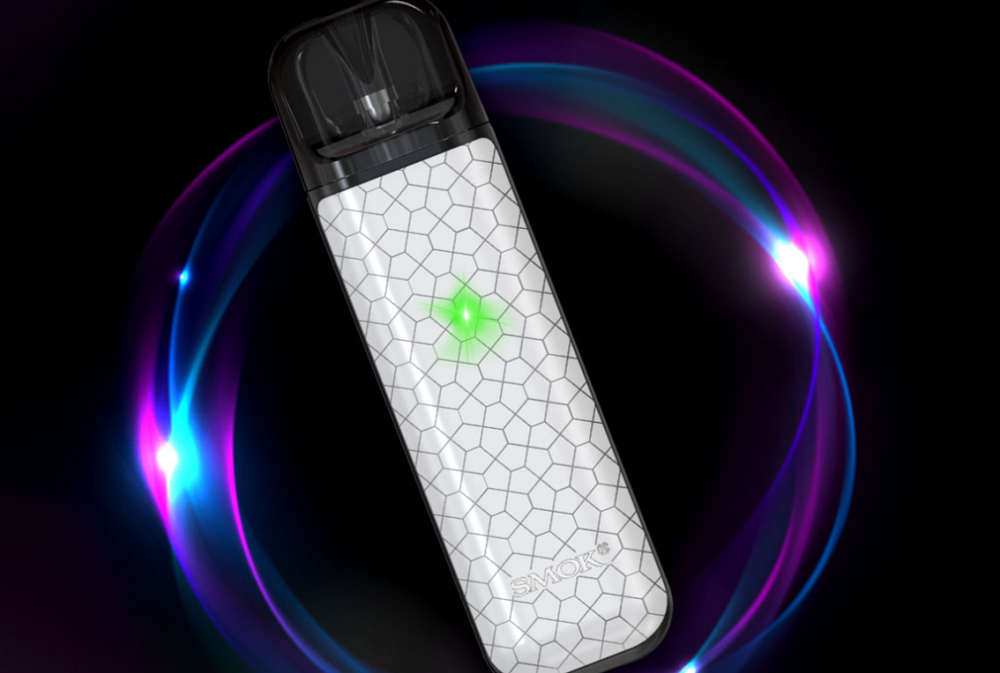 As for the power, nothing to complain about either. This kit is capable of delivering a variable power between 4 and 20W. It is therefore a perfect kit for beginners, especially since it is simple to use. Indeed, it has no screen. It is not equipped with any buttons. The user will only have to inhale to trigger the mechanism and will not have to make any adjustments, the power adapting to the coil automatically.
In addition, there is five protections, including protection against short circuits and protection against inhalation for too long, i.e. longer than 8 seconds.
A cartridge that also performs well
Smok has equipped this kit with the Novo 2 cartridge, which has a capacity of 1.8 ml and is filled from the side after removing the rubber cap. It delivers great flavour and the coil design allows for fast heating.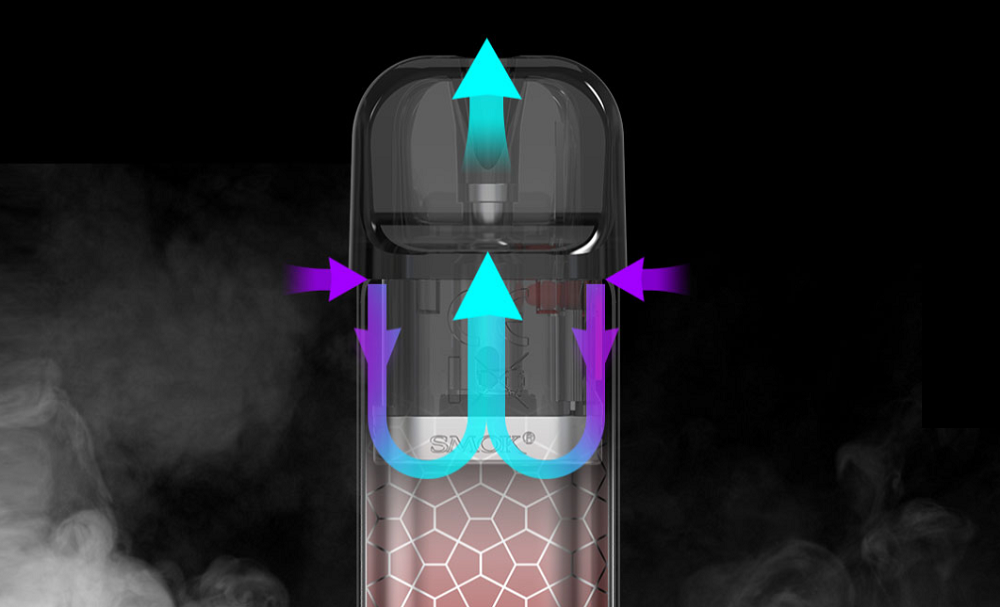 The airflow, for its part, is double with 2 entries located on each side of the cartridge. It is not adjustable, but it allows a U-shaped airflow, meaning that the air goes down and then up to the drip tip to promote the quality of the flavours.
Finally, this cartridge is equipped with a built-in coil. This is a Mesh coil with a value of 0.9 ohm. The cartridge will need to be replaced when this coil wears out.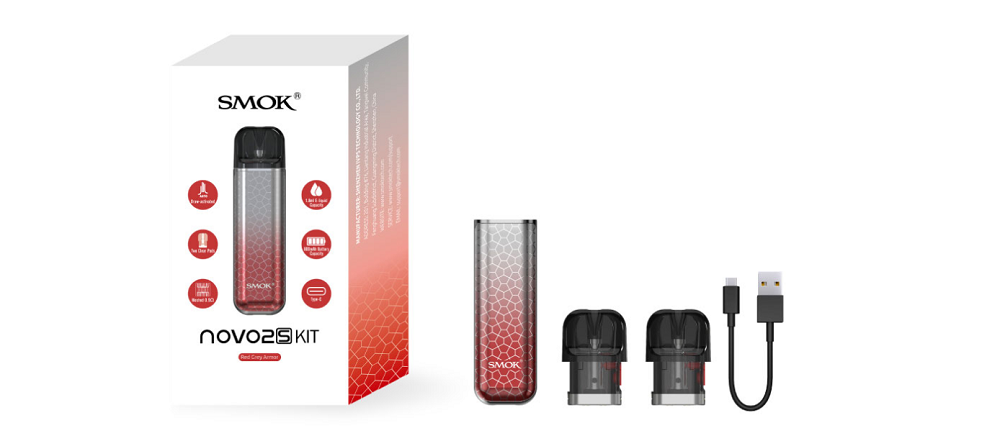 In view of these characteristics, it is difficult not to be tempted by the Novo 2S kit from Smok. If you are a beginner, there is no need to hesitate.
Contents :
1 x Novo 2S mod
2x Novo 2 pod (1,8 ml and 0,9 ohm)
1 x USB-C cable
1 x user manual