Description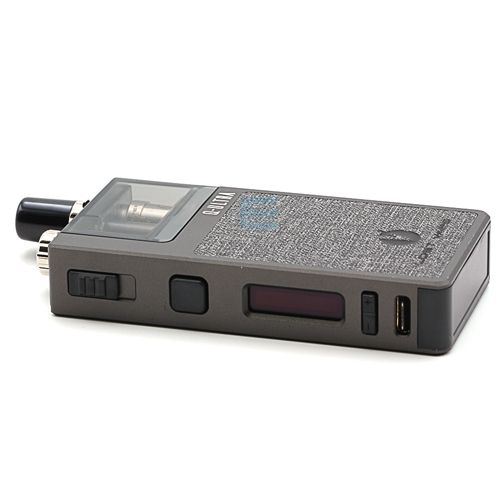 Lost Vape signs here an exceptional collaboration with Alfaliquid to offer an enhanced version of its Orion Q with the Q Ultra pod kit. The two brands do not hesitate to proudly display their collaboration on the design of the kit. The kit's dimensions are 105 x 43 x 16.5 mm and it weighs 90g. Its compact size allows it to be easily carried in a bag or pocket for easy use.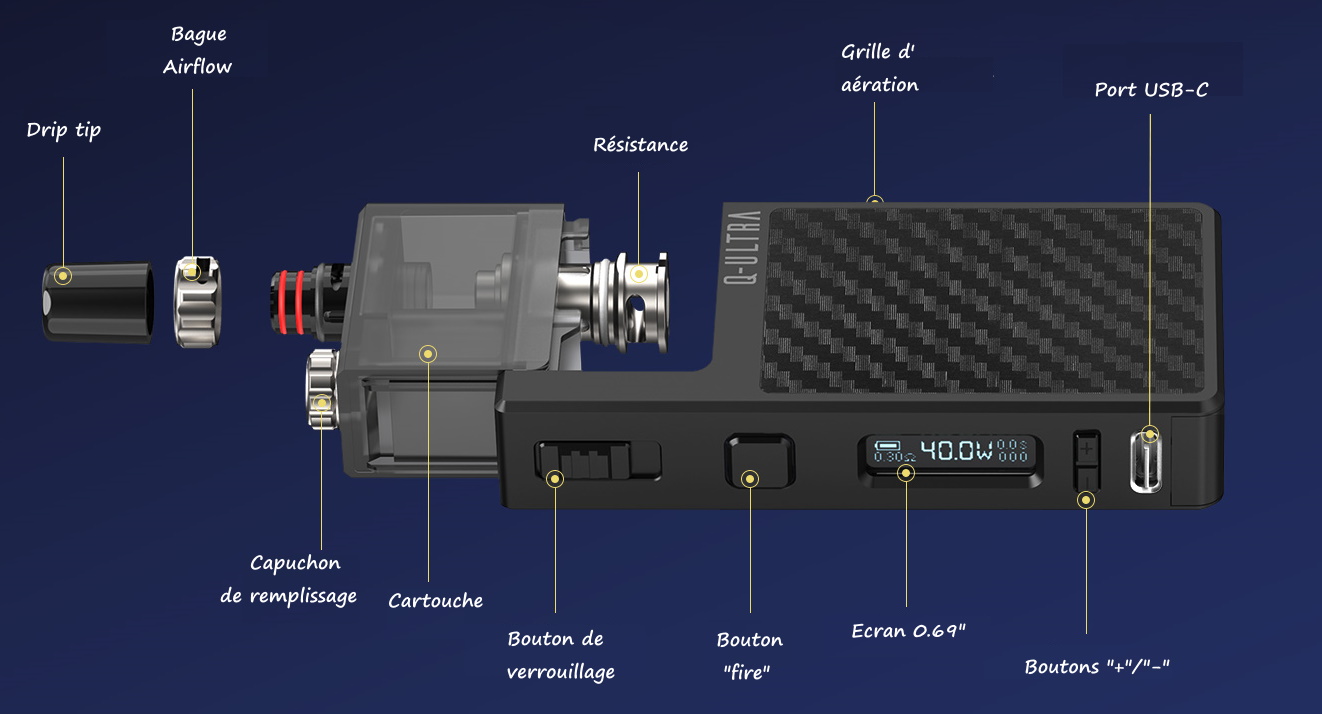 The Q-Ultra kit integrates a large 1600mAh battery that will allow you to steam for a whole day. The battery can be recharged using the USB type-C cable supplied in only 70min.
The kit offers a power mode adjustable between 5 and 40W. To do so, it is equipped with a 0.69″ OLED screen which also allows to clearly display the information necessary for its operation and two variation buttons.

The Q-Ultra kit is associated with a 4ml capacity cartridge that can be filled from the top by simply removing the metal cap that plugs the filling hole. This cartridge offers of course an adjustable air flow system using the removable ring at the base of its drip tip.
This cartridge works with all Ultra Boost heaters. It is delivered with a 0.6 ohm Ultra Boost coil (pre-installed) and a 1.0 ohm Ultra Boost coil. This way you can obtain a high quality MTL or DL quality vape.
Features
Dimensions: 105 x 43 x 16.5 mm
Weight: 90g
Material: aluminium alloy
Built-in battery: 1600mAh
Operating mode: adjustable power
Power range: 5-40W
Coil range: 0.15-3.0ohm
0.69″ OLED screen
Capacity : 4ml
Filling from the top
Adjustable air flow system
Coils supplied: 0.6ohm and 1ohm coils
Compatible resistors: all Ultra Boost coils
Charging via USB type-C cable
Charging time: 70min
Contents
1 x Q-Ultra Kit
1 x Ultra Boost 0.6 Ohm coil (pre-installed)
1 x 1 Ohm Ultra Boost coil (MTL)
1 x Neckband
1 x USB-C cable
1 x User manual